Now you can live your dream Star War Life with these amazing gadgets.
Sunny, 1 year ago
0
3 min

read
1015
No doubt that Star Wars is a favorite movie series for ages. The action and the adventures have always mesmerized us giving us hopes and desires for a new movie every time.  And thus our love for Star Wars is never-ending. Being a Star Wars fan and a gadget geek, you would love to explore these gadgets inspired by the series and try your hands at least on one of these.
You surely share the more emotional range with R2-D2 on the big screen and always wished to have one by your side even-though its language is just beep, bloops and tweets.  Obviously, there are 40 years of representing the R2-D2 but this one is just an exception and nothing like the previous ones. The  Sphero R2-D2 App-Enabled Droid  is  7 inches tall and rechargeable with a look that steals the show.
And what sets it look different is the third leg it has. A toy that is an exact replica of the R2-D2 in the movie and extends and retracts its leg just the same. It's a level of Star Wars Universe verisimilitude we've been dreaming of and shockingly it can also turn its head and make a lot of classic R2 noises, even without the free Sphero app.
Moreover, you also have a cool Spehro Edu app that controls the STEM activities you can also use character-specific commands to program R2-D2.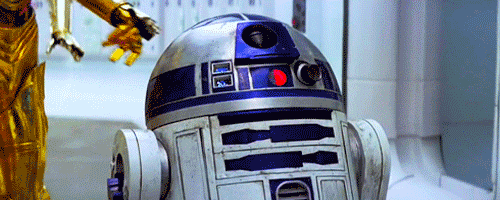 From a galaxy afar this Astromech droid comes to life to help you solve all your quizzes related to the Star Wars series.
Price: $97.99
Lego kit is the most satisfying gadget from the series, though the gadget here doesn't match totally as it doesn't have a spherical base, Legos are blocky bricks after all but yet it does a pretty cool job of recreating our favorite droid.
It's obviously not a frozen model, the head moves above the bot body which can be controlled by a dial built into the model.
It even has a little Lego arm that extends out of its body, just as BB-8 did in Star Wars: The Force Awakens.It's about 9 inches high and 5 inches wide.
Price: $99.95
Plox Death Star Speaker
Spaceships and gear from the movie are the biggest gadgets from the movie which are loved by all. The gear that tops the list mostly is the imposing Death Star.Never has a giant orb been so sinister and yet, so cool.
This desktop sized Bluetooth Plox death Star Speaker lets you admire the Death Star without concern that it will ever turn on you and annihilate your world.
The orb floats above the magnetic base and is 5 watt and 360-degree rotation Bluetooth speaker that will let you listen to all the great music the Empire forbids.
Price: $98.99
 

Stormtrooper Robot
Destructing Stormtroopers are impossible in the series and you know that well. Fantasizing the Stormtroopers now you can get your own Stormtrooper Robot. And it matches the troopers from the movie.
You can interact with the robot and for security, only three facial recognition are allowed.The Stormtrooper patrols the designated area of your home just give him the right orders. Now you have your own bodyguard to keep your home secured.
It works with augmented reality, play Star War adventures at the comfort of your home. Order it to perform a pre selected mission or design your own mission with the companion app. Success can be achieved by using a blaster in mission mode. Get the Stormtrooper security on Amazon.
Price : $280.99
Get these amazing gadgets only on Amazon and know about everything going around the world in  Tech only at me2tech.
Related posts